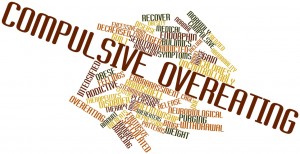 Compulsive overeating is not easy to overcome, it is however, absolutely possible for anyone to conquer. The binging behavior that you have developed is a direct result of being disconnected from your true nature. By nature, we are not designed to self destruct with food. Unfortunately, as a society, we have been programmed to go against the divine design of our human and spiritual nature which is to laugh when we're joyful, cry when we're sad, express anger when we're mad and to feel  love and peace for long periods of time. We're naturally designed to eat in order to fuel our bodies, sleep eight to ten hours a night and work in jobs and careers that are in alignment with our life's purpose.  Somewhere in your life story, you disconnected from your true nature. Maybe you never learned how to be in your "natural you" or perhaps you lost connection at some point in your later years.
I was conditioned at an early age to disconnect from my true nature. We were not a spiritual based family, we were a religious family, which for me, was not about the light of God rather I learned to fear God.  Oppression was a dominating force and I felt shamed for being a passionate and emotional child. Combine all of this with parents who constantly fought, alcoholism and rage between them and a volatile divorce, the Midwest way of eating where comfort foods were the staple, every event being food related and you've got the perfect recipe for disconnection, survival hence, addictions.
I will agree that there are those of us who have a genetic predisposition to addictions, that our blood and brain chemistry are much more sensitive to sugar and stimulants. That is a proven fact. Because of that physiological weakness, we are much more vulnerable to developing severe addiction behaviors. This does not have to be a life sentence of being forever branded as an addict however, and if you are willing to do the work on both your physical health and your personal self, you too can be free from all addictions.
I have dedicated the last twenty eight years of finding my way to my true self which included reconnecting and the commitment to feeling my emotional self, learning how to physically support my body using food as medicine, utilizing only the very best supplements and implementing them in the right ways,  taking full responsibility for healing the pains of my past and expanding more and more into what I refer to as "Divine Love".  All of these have been the necessary components to my becoming totally free.  If you are willing to do the work, you too will experience the blessing of living fully in your true nature of physical radiance, emotional freedom,  pure joy and spiritual peace.
The first step to becoming free is that you must be 100% honest with yourself about your compulsive and/or binge eating habits. If you are in any denial whatsoever then you will remain stuck in the horrifying grips of compulsive overeating.
I want you to know that I had the most severe case of binge eating of anyone I've ever known and the only reason why I reached my top weight of 211 lbs. as opposed to 500 lbs. was because I willfully fasted and compulsively exercised (which is a form of bulimia) in order to counteract the effects of my outrageous binges. The good news is, that no matter how severe your issues are with compulsive overeating, I am a true testimony that you can overcome this unnatural and self-destructive behavior.
I was a sensitive, emotional, passionate and highly intuitive child. Because of the stressful environment I was raised in and the messages that expressing our feelings was not appropriate, I learned to suppress my feelings and process my feelings through eating. Think about how many times you have processed a situation while eating a bag of chips, cookies, a pint of ice cream or a whole pizza. I want you to really think about this for a minute. Not only has the food been a way for you to process your emotions but it has become your confidant, your best friend and a warm fuzzy, you might say. It is where you have placed all of your trust. It has always come through for you in its ability to give you pleasure and comfort. The problem is that on the other side of the pleasure and comfort comes an enormous amount of pain.
I had to learn how to face my feelings head on and feeling my feelings was something I was completely programmed to avoid. On top of that, I had no idea what I was feeling because camouflaging my feelings with food had become so much of an unconscious reflex that I was clueless as to what I was eating over or the fact that I was eating over anything at all.
The following writing exercise was a very powerful and contributing tool to my overcoming this life-long battle with binge eating. What I discovered about compulsive eating was that it kept me disconnected from myself. This writing exercise will bring you closer to yourself and help you learn about who you are emotionally in relationship to everyone and everything in your life.
From this almost daily commitment, some very powerful things will begin to happen. First, you will recognize that you really have been eating over your feelings. Second, you will learn what those feelings are. Third, you will begin forming a relationship with your emotions and most importantly, you will begin to develop the ability to be present to the discomfort of life and emotions. I truly believe that we as a society have programmed ourselves to avoid pain, some of us more than others.
Action Steps- Rediscovering Your Emotions

The following are very powerful exercises and a great place for you to begin on your journey to overcoming compulsive overeating.
1. Write down the issue in your life right now that has the most emotional charge .

For example, are you angry with a co-worker? Are you feeling unappreciated by your boss? Do you feel disrespected by a family member? Are you feeling betrayed by your lover? We all have multiple situations going on at all times so just keep it simple and focus on one for now.
2. Write one page on all of your thoughts and feelings about that issue. Do not "candy coat" it, just write from a very raw and emotional place.

So often, we try to harness our emotions by controlling our thoughts about the issues because maybe we were taught to judge raw emotion. Let go of your mind and write from the rawest place. Notice how you start to feel the emotions behind the issue as you write from that real place. Allow yourself to feel those emotions that the issue evokes. This is the whole idea!
3. Commit to not eating anything for at least one hour before you write and one hour after you write.

Think about how often you process an issue or issues while eating a whole bag of popcorn or a pizza, or a pint of ice cream etc…This is the behavior that we must now let go of and so it is imperative that you refrain from eating anything before, after or during this exercise otherwise you will be defeating the purpose.
4. Describe in detail what type of feeling or feelings it brings up in you ie., sadness, grief, anger, rage, anxiety, fear?

This exercise will help you accurately identify, connect and gain clarity about your emotions. For example, do you feel a low-grade hostility toward someone or do you feel enraged? Are you sad about an issue or more disappointed? Are you angry or is your anger masking more of a feeling of fear or sadness about the issue?
5. Write one paragraph about where in your body you feel the sensations of those feelings.
Does your chest feel heavy from sadness? Do you feel like your head is going to explode with anger? Do you feel a knot in your stomach from anxiety or fear? This exercise will help you learn where in your body you store certain emotions. It will also train you to become more present and connected to yourself while in the midst of an emotional experience. The more you familiarize yourself with the sensations and stay fully present to experiencing those sensations, you will become used to feeling them and eventually you will no longer need to disconnect from them.
There are many components to overcoming compulsive overeating and this writing exercise is a very powerful place to begin.  I recommend doing this exercise at least three times a week and after awhile, you will no longer need a pen and paper because this self awareness and this connection to yourself and life will become a natural built in habit.
Remember that reaching your true nature of complete wellness is a process and if you dedicate yourself to the journey,  you will reap the rewards of actually experiencing the most beautiful life, that right now perhaps, you only dream of for yourself.  
Written by- Kelly Jean Dammeyer

,

http://www.KellyJeanWellness.com