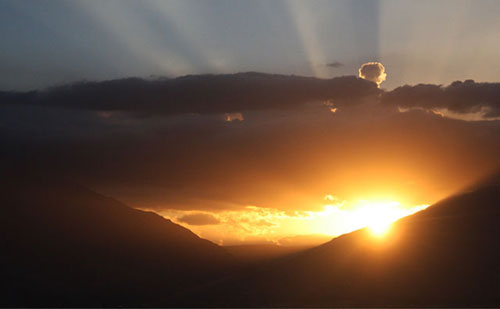 "Kelly Jean has been a phenomenal mentor in my life. I came to Kelly Jean when I was 17 years old, almost on my death bed, where my illness, anorexia, had taken its peak. She truly helped me out of my illness, taught me new ways of looking at my life. She taught me the right ways to nourish and appreciate my body. Kelly Jean has been the light throughout my years working with her. She is such a powerful woman who brings the utmost loving spirit and enthusiasm. She was able to help me see the goodness in every situation. I was no expert on food, but working with Kelly Jean, I have learned how to improve my relationships with people, nourish my body, and appreciate myself for who I am. Thanks for making me the better person I am today, Kelly Jean, I love you with all my heart."

S. Patel, San Diego

"Kelly Jean, your love and inspiration made me believe that I, too, could heal. You were uplifting, loving and full of positive thoughts and words that were followed by a spirit of peace and kindness. You got us and wanted to see us succeed in life and learn to shine the light from ourselves. For all of this from your heart, I love you and I am determined to reach for my highest potential. I am so thankful you came in my life."

J. Kiran, Riverside
Overcoming Eating Disorders Recovery Program (for adults and teens)
"Are you ready to reclaim your power and heal your relationship with food and weight? This program is for you!
Utilizing a holistic approach, I facilitate transformation through loving self-reflection, spiritual connection, uncovering and discovering personal truth, optimal nutrition and balanced exercise. This program brings all aspects of wellness into your journey of recovery. Having recovered from an eating disorder (that had developed in early childhood and continued into early adulthood), my experience both personally and professionally allow me to truly understand and help women of all ages successfully overcoming these issues."
~ Kelly Jean Dammeyer
The Facts about Eating Disorders-
"If you or a loved one is suffering from an eating disorder, you're not alone. Eating disorders are a widespread issue and especially amongst women. They can manifest differently for each person.
In the United States, 20 million women and 10 million men suffer from a clinically significant eating disorder at some time in their life, including anorexia nervosa, bulimia nervosa, binge eating disorder, or an eating disorder not otherwise specified (EDNOS) (Wade, Keski-Rahkonen, & Hudson, 2011). For various reasons, many cases are likely not to be reported. In addition, many individuals struggle with body dissatisfaction and sub-clinical disordered eating attitudes and behaviors, and the best-known contributor to the development of anorexia nervosa and bulimia nervosa is body dissatisfaction (Stice, 2002). By age 6, girls especially start to express concerns about their own weight or shape. 40-60% of elementary school girls (ages 6-12) are concerned about their weight or about becoming too fat. This concern endures through life (Smolak, 2011)."
The Program Includes:
Daily support – (recovery, life coaching, nutrition and exercise support)
90 minute nutrition consultation for blood sugar stabilization and brain chemical balance
Developing a healthy relationship with food
Vitamin and supplement support
Fitness program for brain chemical balance and adrenal health
Meditation and affirmations
Practicing positive and loving self-reflection
Incorporating structured living and self-care
Journal writing and sharing
Learning how to apply spiritual principles into your life
Daily action plan that incorporates all of the above

Prices may vary as every recovery program is specially designed for each individual.
If you or a loved one has been struggling with an eating disorder, don't delay another day. 
Let this holistic approach help you reclaim your life! Call 760-696-7084
"Upon meeting Kelly Jean I had not the slightest clue what to expect. I knew she would help me with a nutrition plan and exercise options but what she gave me was so much more. We began to lay out a nutrition plan where I would write a daily food journal for her to see, alter, and make suggestions to. We then perfected a workout routine that would allow me eat the way she wanted me to and workout how I wanted to. I think it was the balance of her supportive personality and the structure of her methods that made me stick with her program. I knew that she had success with other kids my age (in their teens) and I also found out while talking with her one on one that she went through many challenging obstacles in her own life and was able to rise up against the odds and become the strong woman she is today. I believe those two facts were critical for me to know so that I could open up myself and be inspired to put my trust in her process. I will not sit here and say that it was easy; but then again, nothing worth having comes easily. This was the most challenging thing I have ever been through and in my case all I really needed was a push in the right directions and someone to encourage me, build me up, and tell me that what I am doing is the right thing. Giving yourself over to the process sounds extremely scary and if you are struggling to understand why I was able to trust Kelly Jean when so many professionals before her had failed I can truthfully say that I felt safe in her hands. At first I simply told myself "perhaps I will try it her way for a while and if I don't like it I can always stop" however, after the first difficult week I began to realize that this is what I needed all along. I held control for a very long time in a type of reverse rebellion against my body and I think it was simply time for someone else, someone stronger to take the reins and give me the power to start again."

J. Engberg, San Clemente