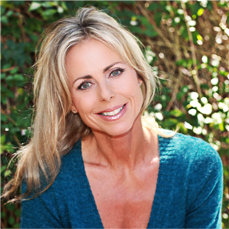 As crazy as it may sound, I'm feeling like a million bucks at 53 and it's not because I got lucky in menopause.
At 50 I went into abrupt menopause and it was no accident that I was one year into an unhealthy relationship.
The pain of being out of alignment with myself took its toll. This relationship did not reflect a consciousness that I knew and longed for. I had made a choice that resulted in some painful consequences.
I stopped sleeping, I started losing my hair, I became moody and felt incredibly stressed. I experienced underlying anxiety, I had food cravings and oddly enough, I got a skin cancer lesion on my arm.
Not only did I find myself swaying into another person's lifestyle, I began eating sugar and foods that gave me a false sense of love and comfort.
I lived a duality between rolling around in the mud so to speak and yearning for something much greater that I had been living prior to that relationship. It was unbearable by the end. This had been a pattern that I had repeated for many years prior and I knew that I was finally at the finish line.
For years leading up to that relationship, I had expanded into incredible levels of physical health, spirituality and personal empowerment so that I had become much more identified with my healthy self and as a result, I was no longer able to be dominated by my unconscious and subconscious self. I was too awake for this level of compromise.
I finally made the big leap, left the relationship and took my power back!
Whether you can relate to my story or not, menopause is a reality and it can be a wonderful reality or a fairly miserable one.
Every woman is experiencing her own set of circumstances and symptoms and what I know to be true is that we can change our reality at any given moment.
After I ended that relationship, I took my power back. I took myself through a powerful reboot nutritionally, spiritually and emotionally.
These last few years have been a continued upward journey to higher levels of physical vitality, personal empowerment and spiritual expansion that has made menopause the greatest time of my life.
I sleep deeply, my weight comes off easily, I have a strong and healthy libido, I'm free from moodiness and anxiety and my hair is back to being healthy and shiny.
Most of all, I feel an inner peace and connection to LOVE which is to me the greatest healing force of all.
If you are feeling out of alignment physically, personally and spiritually and you want to receive a deep level of support, I would recommend my…  Take Your Power Back in Menopause – 8 Week Program that would include:
A complete individualized nutrition program
How to incorporate high quality supplements and essential oils for hormone balance, gut repair, adrenal and thyroid health
Fitness consulting and my ebook Fitness after 40 – How to Revolutionize  Your Fitness Program to Strengthen and Balance Your Body (58 page full color illustrated ebook)
You will also receive my life coaching and spiritual support. 
I will help you:
Define your vision.

Articulate your core values and align with your purpose.

Manage any important life transitions.

Manage any sense of overwhelm, stress or frustration as it comes up.

Shift perspectives that no longer serve you.

Break through subconscious barriers that keep you from feeling joy. 

Expand more into joy, love and your spiritual self.
In this program, you will receive my total commitment to you and my dedication to getting you feeling empowered and aligned with the truth of who you are meant to be in this most sacred time of your life.
If you live long distance, I am happy to work with you online or in person if you live locally to San Diego, Ca.
I would look forward to supporting you.
In Love and Health,
Kelly Jean Dammeyer,
Certified nutritionist, fitness trainer, life coach and spiritual facilitator